I love art!  I love nature!  As a young girl I enjoyed collecting rocks, pebbles, sticks, leaves and wild flowers.  In addition to that, I loved drawing, painting and crafting things from all that I could plunder from nature.  You could say that I loved, and still do, nature's bounty.  I believe, my love for nature has given me the source of my artistic edge.
I began beading just about 17 years ago.  I went to the local craft store as I like to do on occasion to help get my creative juices flowing.  Walking a craft store or even an art gallery would give me ideas for projects and color connectivity.  As I strolled the aisles of the store.....I discovered beads!  I was so excited about all the many shapes and colors.  As you may guess, I came back home with a few strands of lovely glass beads, stringing wire and other findings to make bracelets.  That's when it all started.  I was hooked!  I made about 50 bracelets in only a weeks' time.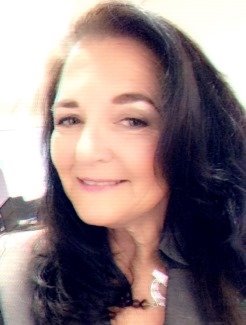 Since then, I began reading and learning more about this new found "hobby".  I now proclaim myself as a self-taught beader, and have graduated to using semi-precious stones of many kinds, Thai and sterling silver, some vermeil and a love of Swarovski crystals in my jewelry creations.  Some of my favorite stones, which are many, but just to name a few are turquoise, amethyst (my birthstone), Larimar and freshwater pearls.  In my gallery of jewelry you will see many different types of shapes and sizes of stones.  I adore large, or some refer to it as "chunky" size stones, but on the other hand, I absolutely love the sweetness of a smaller size stone necklace or bracelet.
Most of my jewelry is a one of a kind creation.  Some pieces I can duplicate if requested.
These days I still paint what I feel, photograph flowers and jewelry and do lots of beading!
Yours truly,
Debbie Simon
And my bead things